School Info
Dave Dershin
Middle School Principal
dave.dershin@k12northstar.org
458-7600 x9100
Address
1401 Bainbridge
Fairbanks, AK 99701
School Hours
Students: 9:30 am - 4:00 pm
Office: 8:30 am - 4:30 pm
Announcements & Upcoming Events
Alaska Measures of Progress (AMP)
Alaska Measures of Progress (AMP) is the new state assessment for students in grades 3-10. AMP replaces the Standards Based Assessment (SBA), which was administered for the final time in April 2014.
AMP is computer-based and will be administered for the first time in spring 2015. Learn more about the new assessment and technology practice tests at the Alaska Assessments website.
AMP TESTING WEEK FOR 7TH GRADERS WILL BE ON:
March 31, April 1, April 2
SCIENCE TESTING FOR 8TH GRADE ONLY
AMP TESTING FOR 8TH GRADERS/MAKE UP TESTING FOR 7TH GRADE AMP
April 7, April 8, April 9
MAKE UP TESTING FOR 8TH GRADE AMP
April 14, April 15, April 16
STUDENTS ARE ENCOURAGED TO BRING THEIR OWN HEADPHONES TO USE DURING THEIR TESTING TIME
AMP-IT-UP TESTING BELL SCHEDULE (2/23 - 2/27)
Student in the Spotlight: Andrew Ng
Eighth grade, Randy Smith Middle School
Andrew Ng was selected as Randy Smith's student artist in the spotlight because he shows exemplary artistic skills in all his work at the school.
His teachers say his dedication to excellence is evident in the way he uses his time to work on art projects. He has a mature sense of color and has begun to develop a bold color palette in his work.
"His color combinations and affinity towards bright, vivid hues sets his artwork apart from others," his teacher says."
Read full article
Student in the spotlight — Elijah Winfrey
Eighth grade, Randy Smith Middle School
FAIRBANKS — Elijah Winfrey is a strong student whose work ethic and learning style aid not only in his own learning but in the learning of all the students in his class.
Elijah, who attends eighth grade at Randy Smith, is always engaged when it comes to classroom activities and discussions. His teachers say his involvement clearly reflects his respect for knowledge and learning.
"Often, he makes connections from academic curriculum to the natural world, interjecting class discussions with stories that draw wisdom from life experiences," his teachers say.
Read full article
Budget Presentation: Thursday, Mar. 5
In cooperation with the Fairbanks Council of PTAs, the Fairbanks School District will provide an overview of the administration's 2015-16 Proposed Budget to parents and families.
Thursday, March 5, 6-7:30 p.m.
North Pole Elementary
250 Snowman Lane, North Pole
Randy Smith Middle School team wins robot rally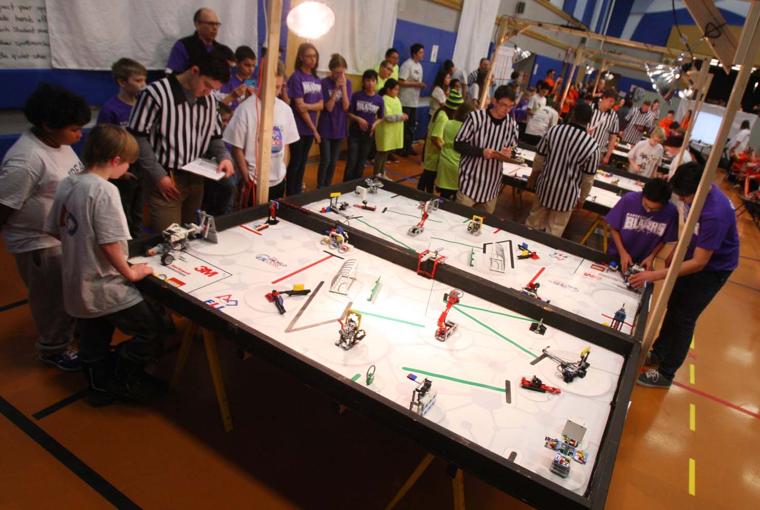 FAIRBANKS — After months designing their LEGO robots, students had 2 1/2 minutes to show off their skills Saturday afternoon at Barnette Magnet School.
With the clock ticking, students between age 9 and 14 put their creations on ping pong table-sized surfaces and put them to work. They directed their bots to earn points by manipulating a series of LEGO doors, spinners and pulleys. The rules let them position their bot in one corner of the table, but once the machines rolled onto the arena they had to rely on the careful programing their creators gave them.
Twenty-seven robotics teams from around Alaska competed in this year's Tanana Valley Robot Rally, a local competition for the international First LEGO League program. One team from Valdez didn't drive up because of the 40 below temperatures in the Interior on Saturday, but participated by teleconference.
The black bears, a team from Randy Smith Middle School took first place, winning the team a spot at the Open North American Invitational this April in Carlsbad, California, home of the LEGOLAND theme park.
Read full article
Randy Smith Newsletter - Read it now or download a copy!
RSM IS GOING TO SPAIN & PORTUGAL!
Randy Smith Bell Schedule
Coach Sponsor Performance Input Form
The Black Bear's Favorites cook book is here!
Parent Resource Page
Click below to find links to sites that parents can use when helping students with their assignments.
Links were compiled by Library Media Services.